Teachout Chiropractic & Wellness Center in Fort Myers, FL
"The place for all your chiropractic needs!"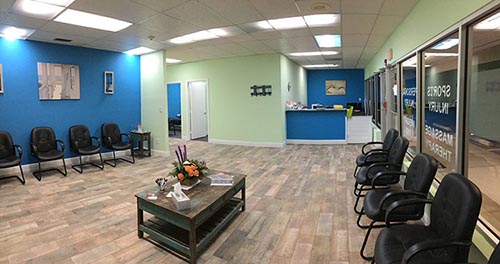 Our Vision
To create a comprehensive wellness center that our community respects and trusts. Our vision includes the families in our community that understand that health is more than the absence of disease, and the human body is more than just the sum of its parts. We visualize a community who values their health and shares the message of a healthier lifestyle with those they know and love.
I met my wife Amy and her children (Cameron & Destiny) in 2001. We became best friends and fell in love over the next two years. Amy started working in my office after about 6 months and we have been working together ever since. She worked as a Massage Therapist and my billing manager in the beginning and then started her Health Coach career in 2011, and slowly moved away from Massage Therapy. Cameron, our son, is now 28 with a wife, daughter, and son of his own. He is in the Army and couldn't be happier to serve his country. Destiny, our daughter, is 27. She is a Dog groomer and loves being able to work with animals. We are thrilled to have them close to us! You may see Cameron popping in from time to time to get his adjustment and visit. And, if you are lucky, you will get to see our grandkids; they come to the office once a week!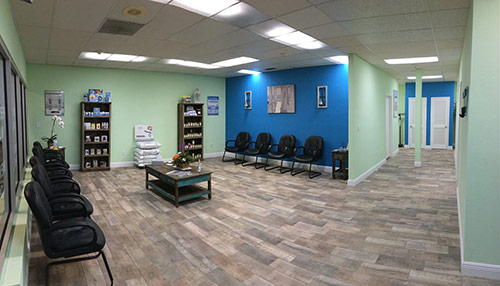 We strive for you to feel as if you are a part of our extended family while providing you with our chiropractic and wellness program that is focused on true health. We want YOU to become the healthiest version of YOU.
As One of the Top Chiropractors in Fort Myers, We Offer a Variety of Chiropractic & Wellness Services
Serving the Fort Myers and surrounding areas, we at Teachout Chiropractic & Wellness center are here to help you with all your chiropractic needs. Our practice is not only focused on relieving your pain and discomfort but improving your well-being. That is why we offer services like posture therapy, NRT, nutritional coaching, and custom orthotics. Sometimes, it is the combination of these services that help improve the quality of life for our patients.
Your health and well-being are what is most important to us. We know how much the residents in our area stand to gain from any of the number of services we offer, and we work hard to bring all the amazing benefits of chiropractic care to you. We can't wait to meet you!
---
Our Promise to You
To the best of our ability, we promise to:
Explain our procedures, our philosophy, and our fees in advance
Take care of each person as if a member of our own family
To provide care that enhances and supports your body's innate ability to heal itself
Honor your health care decisions and your privacy
Provide the best possible adjustments
Continue to improve our skills through study and application
Care for patients from preconception through the golden years
Provide an atmosphere that is friendly, relaxing, healing, positive and fun
Answer your questions
Our Mission
To inspire every patient and family to stimulate their true health potential by integrating chiropractic care and lifestyle changes. We want to be examples of, and help others achieve, long-term health and wellness naturally. To make educational resources available for our patients and our community on health and wellness topics so they can educate others. Lastly, to provide the highest level of chiropractic & wellness care for patients throughout Lee County.